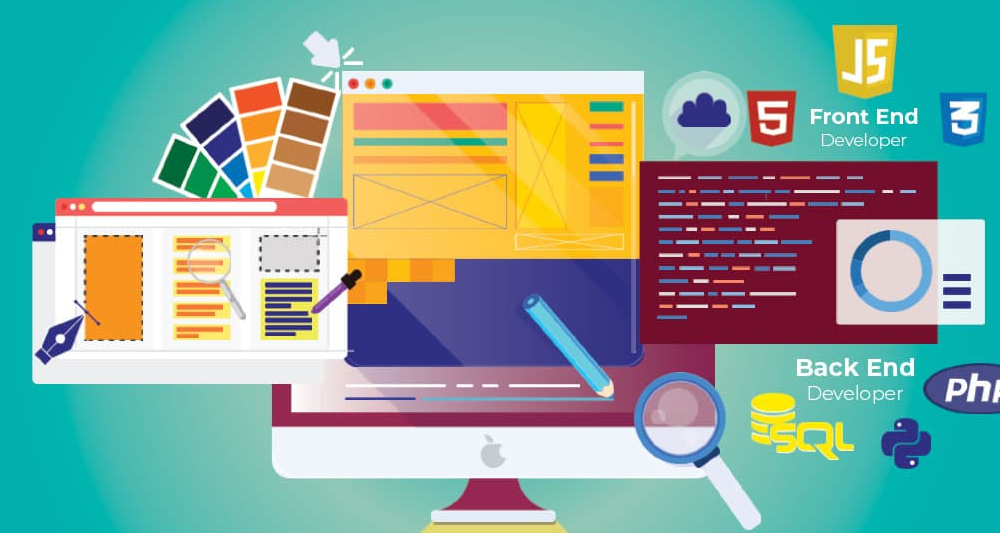 WEB DESIGN AND DEVELOPMENT
Welcome to IT RADIATION, your trusted partner for website design and development in Peshawar, Khyber Pakhtunkhwa, Pakistan. With our expertise and passion for creating stunning and functional websites, we are here to help you establish a strong online presence and grow your business.
At IT RADIATION, we understand the importance of a well-designed website in today's digital world. Your website is the face of your business and the first impression that potential customers get. That's why we focus on creating visually appealing, user-friendly, and responsive websites that leave a lasting impact.
Our team of talented designers and developers work closely with you to understand your unique requirements and goals. We believe in a collaborative approach, ensuring that your vision is brought to life through our expertise and creativity.
Whether you need a simple informational website, an e-commerce platform, or a complex web application, we have the skills and experience to deliver exceptional results. We utilize the latest technologies and industry best practices to create websites that are not only visually stunning but also fast, secure, and optimized for search engines.
With IT RADIATION, you can expect:
Custom website design tailored to your brand
Responsive websites that adapt to different devices
User-friendly interfaces for seamless navigation
Integration of essential features and functionalities
Search engine optimization to improve visibility
Our goal is to help you succeed online by providing you with a website that not only looks great but also drives traffic, engages visitors, and converts them into loyal customers. We believe in building long-term relationships with our clients and providing ongoing support to ensure their continued success.
Ready to take your online presence to the next level? Contact IT RADIATION today for professional website design and development services in Peshawar, Khyber Pakhtunkhwa, Pakistan.
This truth can't be denied that only a well-oriented website can attract the attention of public. An excellently presentable website easily catches the eye of visitors and proves to be a fruitful source of grabbing more and more traffic and must be produced efficiently and need to be updated timely for desirable outputs and profits. So when we talk about creating and managing website, this whole process is called as Web Designing and Development.
Web Designing
Web design refers to the display and visual aesthetics of a website and consists of concept, planning, and building of website structure and it is precisely concerned with what we see on computer or mobile screen when we open a website i.e. colour scheme, images, font, style information flow, layout, structure, graphics, interactive features and everything else related to the visual aspects of the user interface and user experience. All these elements together bring a life to the outlook of a website. It governs everything involved with the visual aesthetics and usability of a website.
Web Development
Web development is the name of producing a fully functioning website from already designed structure. For this purpose, various website pages are developed using HTML, CSS Javascript, PHP, and other incorporated programming languages. A static structure is converted into a dynamic website in web development process through the use of images, content sliders, active states for links and buttons, and other interactive elements. In short, it brings the life to non-interactive graphics, content, and layout of designed website.
Categories
Principles of web designing which must be followed in achieving an aesthetically pleasing layout for a professionally designed website are:
Balance; perfect mixing and blending of dark and light colours to achieve a balanced outlook.
Contrast; colors placed opposite to one another in textures and shapes used within different sections of website for an appealing presentation.
Emphasis; highlighting certain important elements of layout.
Consistency; rhythmic and consistent information and layout providing the best user experience to visitors.
Unity; well-integrated relationship between composition and layout of a website.
Web development governs the codes standing as the backbone of a website and has two steps which are described below:
Front-End; also known as client-side, responsible for the display of website, design related codes are applied.
Back-End; also called as server-side, related to the management of data within the database, also responsible to serve that data to the front-end.
So to be precise and relevant, web design and development process is the combination of external structure as well as the internal software to develop and run a website.
With the development of technology and excessive use of internet, more and more websites are coming into being and updated regularly as the need of time. One must hire professional and proficient web designer and web developer in order to get reliable and authenticated outputs in this aspect, as it is evident that only a well-produced and skillfully managed website can grab customers and proves beneficial.
IT Radiation is one of the first-rate IT Companies in Peshawar, Pakistan. We propose you prime quality IT services in Peshawar as well as all around Pakistan at attainable price with reliable results to help you build and run your website better and at ease. The qualified and experienced web designer and web developer staff of IT Radiation creates and upgrades websites masterly to provide your website a splendid look, smooth performance and seamless user experience. Our expert team assists you in getting client-focused and customer-centric approach through a highly functional website.
IT Radiation is considered in the list of highly preferred Web Design and Development Companies in Peshawar, Pakistan coming up with genuine website solutions. We also offer off and on promising web designing and development packages with satisfactory outputs considering customer's trust and satisfaction. Sunrise Technologies is another branch of IT Radiation existing in Dubai, providing efficient services all over UAE. Contact IT Radiation now to avail magnificent and cost-effective Web Designing and Development Services!
Conclusion
In conclusion, IT RADIATION stands as your reliable partner in Peshawar, Pakistan, offering unparalleled web design and development services. Our collaborative, client-centric approach ensures not just visually stunning websites but also long-term success. With our expertise, your online presence is set to flourish. Contact us today for transformative solutions.